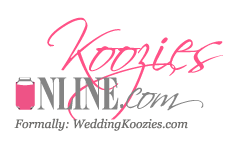 on August 12th, 2012
As a couple goes through its life together, there are certain things that can freeze a moment in time and make it a lifetime memory. Wedding pictures and family pictures in general, are usually pulled out each time a couple wants to remember how things looked on their magical first day as a married couple. The gifts that are given during that time are also cherished and can last a lifetime. If you really want to help a married couple remember their wedding day, then give them the gift of matching husband and wife coolies. Wedding koozies make great gifts for the guests and attendants. But when matching marriage coolies are given to the wedding couple before the bachelor and bachelorette parties begin, then they have time to build up a lot of cherished memories.
When the groom and the bride are out on their pre-wedding parties, they will have their individual coolies so that everyone knows who they are. Since the bride and the groom usually get special attention when they bring their traveling bachelor or bachelorette parties to local clubs, having a coolie that alerts everyone as to who the guest of honor is can be a great help. But the memories that become associated with a matching set of husband and wife coolies do not end with the pre-wedding parties. There are so many other times when these custom koozies will become the center of attention.
At the rehearsal dinner, the wedding coolies can help everyone to see which drinks belong to the bride and the groom. The rehearsal dinner is a time when each family salutes the couple and wishes them good luck before the couple heads down the aisle. There is no better way to symbolize the connection between a bride and a groom that the coolies that hold their drinks as their families salute them. It would be just another step in the process that these colorful and quality coolies would come to symbolize for the couple and its families.
When the ceremony is over and the couple leaves the reception hall, the bride and groom can take their coolies with them as they depart on their honeymoon. Airlines have been known to upgrade the seats of couples on their honeymoons, and there is no better way to identify a bride and groom than with a set of matching koozies. When you are trying to decide which gift would be best for a bride and a groom before their wedding day, go with the quality matching coolies that will gather a lifetime of memories.
Get your Mr. and Mrs. Wedding Coolies for your next bride and groom to be at http://www.kooziesonline.com/.