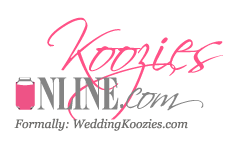 on March 1st, 2013
Are you planning your day? Then, one of the questions that you are facing is what to do for the wedding favors. What can you give to your guests that will convey a thank you effectively and which is useful enough so that your guests will love owning it? An item which has gained great popularity as wedding favors is the koozy. So, you need to judge the merits and demerits of koozies before you decide whether to select this as your day favors.
Advantages of giving koozies as wedding favors
Out of so many different types of traditional or stylish wedding favors, why should you choose wedding koozies? The reasons why koozies have become so popular as wedding favors are as follows:
As far as utility is concerned, they are the perfect gift. Everybody can use koozies. Its usefulness is not restricted to a particular group of persons. Even if you are not a fitness enthusiast and do not need to carry a bottle in a koozy with you in your morning runs or your hikes, you will love to take your bottle in a koozy even if you are just out to run errands. And, there is no such thing as too many koozies. No matter how many you have, you can always use another. They can be customized. So, it rarely happens that the koozy that you will give out will be exactly same to the one that your guest may possess.
The next factor is design. You can really give free reign to your creative side when you sit down to design your day koozies. The combination of color, style and design is completely up to you. So, with koozies, you get the exact message that you want to give out with your day favors.
Understanding your need, online businesses are offering certain uniquely designed koozies, exclusively to be used as wedding favors. They may come in bride and groom pairs, as Mr. and Mrs. Or as his and hers pair. Browsing these designs will give you valuable and romantic ideas of designing your koozies as your day favors.
Finally, since koozies have a large surface area, you can print a really romantic message on it. Whenever your guest will use the koozy in the future, he will be reminded of your day day with fondness. Some dealers even offer you the choice of printing your photo on your day koozy. This makes it a truly unique wedding favor.
Order your day koozies today
Now that you have understood the advantages of getting koozies as wedding favors, waste no time. Place your order today. The steps are:
Browse the internet for wedding koozies. You will find several online stores. Browse their products and price options. Read the reviews. See if they deliver in your area. If everything works out, shortlist two to three dealers.
Select your koozy and its design. Most websites will offer you online tools to design your koozies. Ask for an estimate from the shortlisted stores.
Always check the samples. The all round view of the completed koozy designed to your specifications is mailed to you.
Negotiate the price. There are generally certain discounts when you order in bulk. This is also the stage where you finalize the store from which you are going to buy.
All these should be done well in advance of the wedding. You should always make some allowance for delay. After all, your koozies will be fine even if they arrive a few days early.