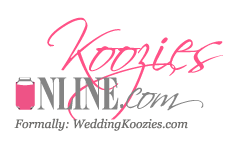 on August 15th, 2014
When it comes to giving out koozies as gifts, you should take some time to understand your event and the audience that will be attending. Most koozies are designed to be used with bottles and cans. When you are getting wedding koozies, it is convenient that koozies can handle bottles and cans because most wedding receptions and wedding gatherings serve both. There will be those times when you will have an event that will primarily serve drinks in bottles. When you know that you will be having a lot of people drinking from bottles, then you can increase the chances that your message will be read by giving out bottle koozies instead of all-purpose koozies. There is a difference, and it is a difference that you should be aware of.
A custom koozie is a drink cooler that has your company or event information printed on it along with a special graphic that will draw people's attention. When you give koozies away at events, you want people to use them and then take them home to be used later. They are designed to be mementos of the event as well as marketing pieces for companies. But when people are unable to use your koozies because they do not accommodate their drink preference, then the koozies go to waste. Bottle koozies have zippers that go up the side to help the koozie to snuggle right up to the long neck of a bottle. When you have that kind of insulation on a bottle, then you have something that can keep your drink cold.
The best part about well-designed bottle koozies is that they work on glass as well as plastic bottles. With more and more drink manufacturers using plastic bottles, it just makes sense that the koozies would be designed to handle both. The foam material and exterior coating used to make a high quality koozie are ideal for insulating the bottle and keeping the drink cold. When you zipper up the side, you are doing the most that you can do to keep a drink as cold as possible. It is the kind of gift that people will appreciate and use for a long time.
Bottle koozies are excellent for gatherings where plastic and glass bottles will be prominent. When people see the potential in the bottle koozie, they will want to use it at home and whenever they head out to another event that utilizes bottles.
www.kooziesonline.com has a great selection of koozies for bottles.