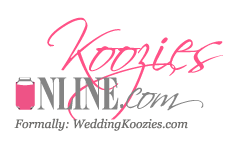 on August 14th, 2012
The more portable, but still functional, that something is, the more perceived value it will have to someone. As you are planning your next corporate event and are trying to create a marketing giveaway that people will remember, consider collapsible koozies. Corporate koozies are a lot like wedding koozies in that they mark a moment in time that the organizer wants attendees to remember. The difference is that companies want to get long-term marketing results from their koozie investment, and collapsible koozies can help accomplish that goal.
Some of the more common events where collapsible koozies are appropriate include:
Customer Appreciation Events
Employee Appreciation Events
Trade Show Booths
New Product Launch Events
Open House Events
The reason that collapsible koozies are such effective marketing tools is because they are able to be folded and put in a person's pocket. When you hand someone a hard, foam koozie, it is difficult for that person to find a way of getting that koozie home. The gift is appreciated, but carrying it presents a problem. With collapsible koozies, the recipient can just fold it up and easily take it home with him. A collapsible koozie is also easier to store and re-use in many different situations.
Another benefit to collapsible koozies is that people tend to flip collapsible koozies over to see what is printed on each side. If you have two messages you want to deliver at your next corporate event, then a collapsible koozie will allow you to deliver both messages effectively.
Custom printed collapsible koozies are just as effective at keeping canned or bottled beverages cold as the hard, foam koozies. The convenience of a marketing giveaway is lost if that giveaway has not functional use for your recipients. With the collapsible koozie, the functionality and practicality make it an attractive option.
The next time you are planning a marketing campaign or a corporate event and want a good idea on giveaways, you need to look at collapsible koozies. With your company name and logo printed on these gifts, you will realize a long-term marketing return that could extend for many years and reach more people that you could have imagined. When people take collapsible koozies home, they can use them over and over again. They can also take them to their desks at work and use them while they sit and do their jobs. The more that your koozie is on display, the more marketing mileage you will get out of it. Using collapsible koozies could be one of the best marketing ideas you have ever had.
Browse our website for Collapsible Koozie ideas.