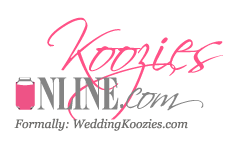 on September 5th, 2012
Guests find collapsible wedding koozies cute and convenient
Wedding Koozies has some of the best and most unique can Koozies available. Their selection is just incredible. They have hard can coolers. Soft can coolers, neoprene coolers and scuba foam coolers. They even have collapsible can coolers, and their foam can coolers fit both bottles and cans.
Collapsible wedding Koozies are a great take-home party favor for your guests. They can be imprinted with any design and/or wording you desire. Both sides of the Koozie can be imprinted with designs, logos and words. Some popular designs involve fish, hearts, bells, names, dates and logos, and all of it can be used to make your day stand out in the minds of your guests.
Imagine treating all your guests to an item that's both nostalgic and hilarious. Most of us have seen our grandparents or parents with drink coolies wrapped around their cans. They're soft. They're squishy. They spring back to shape when you crush them and release them. They are hours of fun and entertainment, and they keep your drink cold. It's a fun and unique gift that will keep your guests chuckling for years.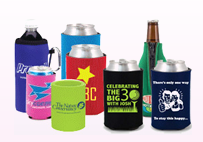 Wedding Koozies are also affordable. They can be purchased for as little as .49 cents per can for orders of 500 or more, and you'll receive a free custom design of your choice, free second side printing, free setup, free shipping and free art. We even provide a free proof, so that you can make sure your design is exactly what you want before we manufacture your order.
Wedding Koozies also offers fast production. If you need your design within 24 hours, we can do it for as little as .19 cents per can cooler. It's a great deal when you need your order fast. We even let you design your can Koozie yourself online. You can choose the color of your can cooler, the wording and logo colors, the text colors and the image colors. You can even upload your own image that you created. In other words, you'll get a completely customize can Koozie.
Wedding Koozies makes ordering can Koozies fun for both you and your guests. You will enjoy the order process and designing your very own custom can Koozie, and your guests will enjoy receiving them. They are loads of entertainment, and they keep your drinks insulate and cold for hours. We love them, and we know you will too.