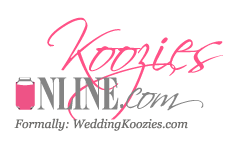 on September 12th, 2012
Designing the perfect Neoprene Can Coolie can be a challenge. In many cases, designers must not only determine what information should be included on the coolie, but also the color scheme, images, and overall appearance of the product. It should come as no surprise, then, that it can take weeks—or even months—to develop a product that is acceptable to all members of the design team. When designing neoprene can coolies, creators should identify important information, image presentation, and how many of the Neoprene Can Coolies will be needed.
For most individuals and businesses, the most important part of designing a coolie revolves around creating the message or text that will be included on the product. Common examples of text on Neoprene Can Coolies includes:
Name and anniversary of a couple for a wedding or anniversary gift
Contact information and price list for a corporate give away gift
Team name and season schedule for a revenue generator for local or professional athletic teams
Regardless of the way in which the coolie will be used, identifying appropriate and acceptable text early in the planning process is important to ensuring optimal results. Consider working with a group to develop the perfect script for your coolie.
In addition to identifying important information, designers should also think carefully about the overall image that they hope that their Neoprene Can Coolie will present to recipients. Coolies that are designed by business organizations should portray a sense of professionalism and business savvy. In contrast, those used for weddings, anniversaries, or other parties may simply show a sense of humor or enjoyment for life. Designers may want to consult with other friends, family members, and work colleagues to ensure that the image that they believe is being portrayed is the same one received for coolie users.
Finally, when designing and ordering Neoprene Can Coolies, identifying an appropriate number of products is essential. Individuals who plan to purchase Neoprene Can Coolies can often save a great deal by purchasing in bulk—however, if many of the products will not be used, the money will still have been wasted. Be sure to get an accurate estimate of the number of Neoprene Can Coolies needed for an event before placing a final order. Consult with product leaders or supervisors to ensure that the number of Neoprene Can Coolies ordered will nmeet the demand, without exceeding it dramatically.