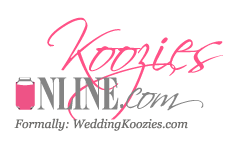 on August 22nd, 2012
Corporate events are used to thank customers, appreciate employees and develop positive feelings towards your company. To help keep sustain those positive feelings, it helps to give a gift to each attendee at your events that the attendees will appreciate and use. Koozies are the foam insulated drink holders that are popular anywhere people drink from cans or bottles. When you give koozies out at any of your corporate events, you will be giving people something that they will be able to use at home whenever they bring out a canned or bottle beverage, and you will be giving your attendees something that will remind them of your event for years to come. It is an inexpensive way to enhance the positive effects of your event.
The color scheme of your koozies is important to helping people recognize them as coming from your company. In your company marketing material, you have a color scheme that you use to help identify your organization. You can pick the two primary colors in that scheme and use those as the colors for your koozies. For example, if the primary colors on your marketing materials are red and white, then red koozies with white writing would be appropriate. Not only does it allow you to give a gift that people will appreciate, but it also helps you to further the notion that your company's primary colors are red and white.
The information you print on your customized koozies is extremely important. You do not want to print too much information because then people will not read it. But you do want to give people enough information to be able to contact your company if they suddenly realize that they need your product or service while drinking a cold beverage. If you put your company name and phone number on your koozie, then people can contact you easily. If you want your koozie to have a more national look, then put your company website on there instead of the phone number.
Custom corporate koozies with your company information and corporate logo printed on them can have a significant return on your marketing investment. Koozies can last for years, and people will use them at home or at the office to keep their drinks cold. Whenever they see your koozie, they are reminded of the positive feelings they have for your company and they are also reminded to call your company when they need your products or services.
Visit our website to find out how to get your corporate event custom made Koozies.