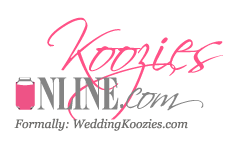 on September 20th, 2012
Weddings can be expensive events. According to some experts, couples today spend on average $25,000 dollars for a small to medium-sized wedding. Couples who have large families—or wish to invite many friends and co-workers to their special day—must be willing to dish out even more money. When it comes to purchasing gifts for wedding attendees, it should come as no surprise that the bill can rise even more dramatically. Newlyweds that are interested in purchasing coolies for their guests, while still sticking to a budget, should consider the Economy Coolie. Carefully choosing a color scheme, font, and images for the Economy Coolie are all important steps that ensure the perfect final product.
When it comes to designing Economy Coolies for guests, choosing the color of the products is perhaps the most important first step. In most cases, couples who want to give these coolies as a gift will use the colors of the wedding as a backdrop for the Economy Coolie. These colors will not only coordinate well in wedding pictures, but will provide guests with a memory of the special day. With a wide variety of colors available, individuals who shop at WeddingKoozie.com should have no problem finding a hue that meets their needs!
In addition to choosing a color scheme, identifying acceptable font types is also important for those who want the perfect Economy Coolie for a wedding. Depending on the theme of the wedding, the type of font used on this product may vary quite dramatically. Some of the most common types of fonts used for wedding coolies include:
Traditional script for a "fairytale" themed event
Block printing for a modern wedding
Bold capital writing for an altogether unique event
Be sure to evaluate the overall readability of the specific font type before including it on an Economy Coolie to ensure optimal results. Font that is difficult to read will be frustrating for both the wedding couple and the guests.
Finally, many couples choose to include a picture of themselves on wedding Economy Coolies. Though including an image may increase the price of the product, it can dramatically change its appearance. In most cases, the larger and more complex the image, the more expensive it will be to include it on the Economy Coolie. Couples should carefully evaluate the cost and benefit associated with adding a picture to an Economy Coolie before placing a final order. Customer service Representatives at WeddingKoozie.com can provide assistance when it comes to designing the perfect Economy Coolie for the wedding of your dreams!