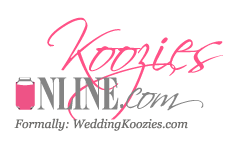 on August 9th, 2014
Camouflage has become more than just a color pattern. It has become statement that says that the person who has this camouflaged colored item is an outdoors person who engages in a variety of outdoors activity. If you are planning an event that caters to the outdoors crowd, then disguise camo koozies would be the ideal gifts to give everyone. There are so many different situations where these kinds of koozies are appropriate that you can use them for almost any event you are planning.
If you are planning a wedding between two outdoors enthusiasts, then your day koozies can have the disguise camo color pattern on them. Imagine how easy it would be for guests at a wedding like that to look at a customized koozie with disguise camouflage colors on it and remember everything that happened at that wedding. It is the kind of wedding favor that captures the essence of the couple and allows people to get an idea of how the couple likes to spend their free time.
Disguise camo koozies are also ideal for businesses as well. There is nothing that says you have to give koozies away to customers. If you put customized camouflage koozies next to the cash register at your outdoor activities store, you will be able to sell them to the hunters and other outdoors enthusiasts who want their canned and bottled beverages in camouflage. If you do decide to give them away, then include a free camouflage koozie in every order. When you have your company name and contact information printed on them, then they become an appreciated gift that customers will use and will also remind your customers to visit your store when they need outdoors supplies.
There are people all over the country that organize leagues of paintball and other outdoor enthusiasts. You can help increase your membership in your leagues by giving your current members customized camouflage koozies. All you need to do is put the name of your league or event on the koozie, and ask your current members to use their koozies when other people are around. In no time, your group will start to grow with paying members.
Never underestimate the appeal of disguise camo koozies. When people want to spend time in the great outdoors, they will need all of the help they can get to keep their drinks cold. You can promote your event or business and help people enjoy the great outdoors by offering disguise camouflage koozies.
Visit our website and get your Koozies in camo disguise.