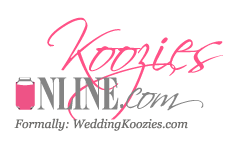 on August 11th, 2012
People sometimes make the mistake of thinking that the possibilities surrounding a product called an economy koozie are limited. If you are looking for something that will enhance your upcoming event, then a koozie is a great way to make things more interesting. If you want to make sure that everyone gets to enjoy your gift koozies and has something to take away from your event, then you need to look into getting an economy koozie. Making a simple but effective statement that reaches a lot of people is often the best way to make sure that your company name, or personal event, is remembered for a very long time to come.
If you need a wedding koozie for a large wedding, then custom koozies from the economy selection are your best choice. Remember that people will appreciate a gift koozie no matter what it says or looks like. When you spend the time to design effective economy koozies, you are just making the experience that much better for your guests.
Your economy koozie design starts with choosing the right color. In most cases, you will want to choose a solid color that has some significance to the event. It could be the favorite color of the guest of honor at a large birthday bash, or it could be the primary color of a company holding a customer appreciation event. When you choose the color of your koozies, be sure to put some thought into it. It helps to enhance the event when everything is coordinated in some way.
The writing on the economy koozie should be basic but effective. It can be something as simple as the date and name of your family reunion, or the name and phone number of your company. Make sure that you choose a color for your writing that will stand out against the background color. If people can read your message, then it will be easier for them to remember where the koozie came from.
You can also choose to enhance your economy koozie with a simple graphic. It could be a company logo, or an image that has significance for your personal event. The image can be printed in the same color as the text to help it stand out from the koozie background.
Once your economy koozie is designed, the next step is to print as many as you can. The great thing about an economy koozie is that it is high quality, it can be completely customized, but it is still an inexpensive way to commemorate an event.
Get your customized Economy Kozies when your're visiting our website.