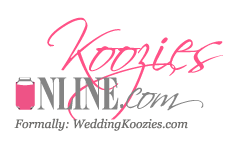 on August 6th, 2012
Friends won't be forgetting a wedding event anytime soon when they take home a special and useful memory of the celebration. Use the fun and functional Koozies for wedding favors. These reusable Koozie favors will make any wedding one to remember. Guests will use them for years to come.
Koozies: Fun and Functional
Koozies make a fun and useful favor. Put a popular canned or bottled drink in them to place at table settings as wedding favors. Guests take these home and use them for keeping drinks at a cool temperature. They come as collapsible Coolies or as hard foam Koozies. Either style is a great choice as a favor. Both keep drinks cool and refreshing.
Coolies: Unique and Personalized
Guests are sure to be impressed with these favors. These are a lasting memory of the big event, as all of the Coolies for that special day can be personalized with text and designs. It's a memory that will last a long time.
Styles and Designs
Can and bottle Koozies come in many style and designs. Choose the one that compliments the event's colors and themes. A few popular varieties include the following:
Economy Coolie
This style and design offers the greatest savings for those on a strict budget. The front and back custom designs are free of charge and they are just as attractive, useful and fun. Colors are limited with these since they are produced in bulk to save customers money.
Mr. and Mrs. Coolies Sets
These Coolie are for the bride and groom. Set them at the head table where the bride and groom will be seated with their favorite drinks in the Koozies.
Neoprene Twister Zippered Bottle Coolies
These Coolies have an original style, with the imprint on a diagonal. These also have a twisted zipper. Choose this style when looking for a fun and original design to compliment unique party themes and colors.
Display Ideas for Coolies
There are clever ways to use the Koolies at the big event. Coolies can be placed at each setting with the wedding couple's favorite canned or bottled drink. Or, a couple can get creative and use them to hold name place cards at the entrance table. Another idea is to save the Coolies for the end of the night; display them on a table by the exit door for guests to take when they leave the party.
Over 500 Design Options
Coolies can be custom designed with over 500 images to choose from. Guests will love their favors that serve as a lasting and useful token of that special wedding event. A couple's own design can also be used for personalizing Coolies, making it an even more unique and original wedding favor at an affordable price.