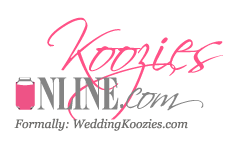 on September 24th, 2012
Weddings are an event in which two people share their love, join their families together, and—above all—celebrate! While this celebration may take many forms, in most cases, it includes dancing, music, food, and alcoholic beverages. There are a number of different types of alcoholic drinks that can be enjoyed by individuals who are either getting married, or celebrating the marriage of another loved couple—though beer is especially popular. Individuals who are interested in showing love for wedding party participants or guests should consider purchasing the Mr. and Mrs. Neoprene Can Coolie Set!
Finding the perfect wedding gift is getting more and more difficult. This is especially true when:
The couple is of an older age
The couple has already been living together for an extended length of time
The couple already has a large supply of kitchen tools, bathroom towels, linens, and other similar products
In addition, guests who may not be especially familiar with either the groom or the bride may have a hard time picking out a new gift for the married couple. In this case, a Mr. and Mrs. Neoprene Can Coolie Set may be the perfect option! It not only provides a memory of the wedding, but also shows a sense of humor and affection for the husband and wife.
Wedding guests are not the only ones who may wish to purchase Mr. and Mrs. Neoprene Can Coolie Set—in fact, in many cases, the couple may decide to buy this as a gift for the individuals who came to the event. In addition, a Mr. and Mrs. Neoprene Can Coolie Set is a great gift idea for bridesmaids, groomsmen, and other members of the wedding party who may have spend a great deal of time, money, and effort on the event. Regardless of who receives the Mr. and Mrs. Neoprene Can Coolie Set, it will likely provide memories for a lifetime!
A Mr. and Mrs. Neoprene Can Coolie Set is a great gift for weddings, anniversaries—or simply to say "I love you." These products are quite affordable, and can fit in even the tightest budget. In most cases, individuals who order this gift can expect to receive it within five business days. In the event that the product is needed within a shorter time period, rush options may be available. Customers can consult with the representatives at WeddingKoozies.com for more information on shipping and handling of Mr. and Mrs. Neoprene Can Coolie Sets.