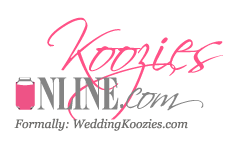 on August 10th, 2014
Different people have different names for the foam, insulated holder that wraps conveniently around a beverage can or bottle. Some of the more common names are:
Holder
Wrap Around
Drink Cooler
Drink Protector
The real name of these foam devices is koozie. They are designed to insulate your drink and keep it cold for as long as possible, even in the warmest of conditions. Koozies come in many different design styles, but the hard foam koozies are the ones that many people prefer. When you put a drink in a hard foam koozie, it will stand on its own and stay cool. There are ways that you can use these insulated holders to help make your event special.
To help make your event something that people will remember, you can start off by having your hard foam koozies customized with all of your event information on them. The most basic information would be the date and name of the event. This way, people can take their koozies home and remember your event when they are reusing the koozies to keep their drinks cool.
Another way to help make your event memorable is to develop an event logo and have that logo printed on the customized koozies. It can be fun to try to bring together the elements of your event into a logo, and it will add more character to your koozies. If it is a family reunion, then you can look up the family coat of arms and use that as a logo. Your other options include using a picture of your grandparents as the logo, or just finding a unique way to represent the family name. Logos are always going to get attention and they are a great way to make your event stand out.
Hard foam koozies can be reused by your guests for a long time to come. They are event mementos that will be appreciated by everyone. When you are trying to determine what the perfect gift would be for all of your guests and trying to develop something that will help enhance everyone's memory of your event, then try customized hard foam koozies. They are inexpensive and everyone can use them. With a little creativity and design, you should be able to create koozies that will start conversations for many years to come. All it takes is a little design work and the right customized koozie company to help you bring your designs to life.
Check out the Hard Foam Koozies designs that are available on our website.