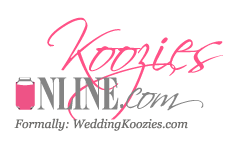 on August 13th, 2014
There are many different situations where drink koozies make excellent gifts. Some of those events include:
Marriage
Corporate Trade Shows
Family Reunions
Birthday Parties
Bachelor Parties
Bachelorette Parties
The thing to remember about event koozies or any kind of custom koozie order is that it needs to be done right or else you won't be able to give the koozies out at your event. That is why it is so important to make sure that you choose the right company to help you with your custom koozie order. There are a few elements to look for when searching for the right koozie sales organization.
Selection
A good koozie company is going to have a wide variety of designs and styles to choose from. You will be able to find economy koozies, high quality neoprene koozies, hard foam koozies, collapsible koozies and specialty koozies that will make your event special.
The selection will also include a wide variety of colors, images and specialized graphics capabilities as well. A good koozie company should give you a library of images to choose from for your koozie, or allow you to use your own image. You should be able to get solid colors, or choose from a variety of color patterns including special camouflage color designs.
Pricing
Whether you are planning a ceremony or a corporate event, you need the koozie pricing to be right. A reputable koozie sales company will be able to give you the best pricing you can find on small or large quantities. You can get pricing that will allow you to capture someone's special day with custom koozies, or that will allow your marketing department to add some extra flair to your new product release without costing you more than you can afford.
Service
From the moment you start your order to the moment that it arrives at your destination, a good koozie company will be with you every step. You will find friendly associates that will help you to plan your order and make sure it gets shipped out on time. If something goes wrong, then a good koozie company will work with you to make sure that a resolution is found that will help to make your event a success. Friendly customer service is critical in making sure that you get exactly the kind of koozies you want for your event, and efficient service is critical in making sure that those koozies arrive on time.
Visit http://www.kooziesonline.com/ and see why we are the best Koozie company around.