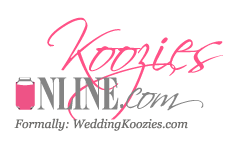 on August 16th, 2014
Creating customized koozies for your upcoming event can be just as much fun as the event itself. When you find a custom koozie company that offers you all of the right options, then you can start creating koozies that people will want and use for a long time. Some of the events you can use custom koozies at include:
Corporate Events
Trade Shows
Customer Appreciation Events
Wedding Receptions
Bachelor Parties
Bachelorette Parties
Family Reunions
One of the best things about koozies is that they can come in just about any color, or any combination of colors, to help create a unique look. Many people like to design their koozies with standard camouflage colors to appeal to outdoorsmen. But you can alter those camouflage colors and get a very special look. For example, if you are having a Fourth of July event, then you can use a camouflage pattern with red, white and blue colors on your customized koozies. That will create something people may have never seen before and inspire people to keep their koozies for a long time.
Koozies can also come in special patterns. When you talk to your koozie supplier, see what kind of designs they have that you can use to make your event special. For example, a country music event would be enhanced by having customized koozies in the shape of cowboy boots. Small touches like that can really make your event stand out in the mind of the attendees.
As you create your customized koozies, check out the other special features that will make your koozies more appealing to your attendees. Koozies with zippers on them can be used to keep long neck beverage bottle cold and collapsible koozies are easier for people to take home with them when the event is over. The more functional and interesting you make your personalized koozies, the bigger impact the koozies will have on the people you give them to.
Koozies are inexpensive but effective ways to enhance your next gathering. When you customize your koozies with printed words and images, then you will create something that people will want to keep. Whether you are trying to create a koozie that will commemorate a special, personal event for a very long time, or you are trying to develop a marketing giveaway that will remind people of your company, you can rest assured that customized koozies are the way to go.
Check out our design options for koozies at www.kooziesonline.com.