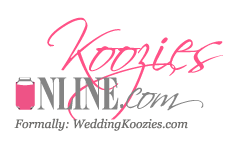 on August 18th, 2014
People who have seen a drink koozie protecting a canned or bottled beverage know that koozies can come in a variety of colors. When you get customized koozies, you can have any logo or words printed on the koozie that you want. They may excellent gifts that people will use for many years to come. As part of a marketing plan for a company, giving away koozies with the company's name and logo printed on them will remind customers of your company for a long time.
The thing that most people may not realize about koozies is that they do have options that make them even more effective. When you are trying to decide what kinds of koozies to give out as promotional items or gifts to commemorate your personal event, keep these special features in mind and make them part of your koozie design.
Zippers
Koozies are most effective when they are sung with the can or bottle they are protecting. With cans, it is a little easier for a koozie to grab on to the exterior of the can and surround it with a protective shell. Bottles with long necks are not quite as simple. That is why some koozies come with a zipper on the side. You can pull the zipper up and ensure that your koozie is snug enough around your bottle to keep your drink cold.
Camouflage
Hunting is extremely popular, along with war games using pellet or paint guns. Examine the crowd you will be handing your koozies out to and see if using a camouflage color scheme many not make the koozies more appealing. War games enthusiasts would love camouflage koozies because they can keep water bottles cool and hidden. Try camouflage koozies the next time you are planning an event that will attract hunters or outdoors enthusiasts.
Collapsible
Most people know koozies as the hard foam designs that cans or bottle slip into. But there are also collapsible designs that can be easier for people to carry. A collapsible koozie folds up and fits into someone's pocket for easy retrieval at a later time. You can still have these koozies printed with your custom message, but you can also add the convenience of the collapsible feature that makes them easier to carry.
Special Designs
Is your event going to attract country music fans? You can get koozies in the shape of cowboy boots to help enhance the value of the koozie to your attendees. Before you place an order for a standard customized koozie, check out the special designs that will make your koozie gifts even more desirable.
Like cars, our Koozies have options. Find the on that is right for you at www.kooziesonline.com.