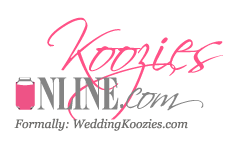 on August 3rd, 2012
Koozies let guests take home a piece of your night
Couples spend months of planning and thousands of dollars to make their wedding unique. Wedding favors are a great way to put your personal stamp on the wedding. The wedding favor is the one part of your day that guests can take with them to relive the experience. Most wedding favors end up tossed in drawers or thrown out with the trash. Wedding koozies are a favor that your guests can use at the wedding and then take home to remember your special day each time they pop open a cold one. Here are some ways you can use a koozie to commemorate your special day.
1. The Country Casual Wedding
At a casual backyard or outdoor wedding koozies can double as a favor and beverage server, eliminating the need for rented glassware. Hard-foam koozies offer excellent insulation and can keep beverages cool for hours. These koozies can be customized using a variety of colors and scripts, but retain their shape and are easy to hold and carry. Guests can use the koozie to keep their drinks cool at the reception and then take it home to keep as a memento of your special day.
2. The Koozie Couple
Are you the koozie couple? Is the history of your relationship documented in koozies? College sweethearts often have a drawer of soft collapsible koozies that tell the story of their romance, one can at time. Collapsible koozies can be customized using your college colors. Create a display at the favor table showcasing your koozie collection. Start with the koozie from the fraternity mixer where you met, followed by the college mascot koozie you bought on your first date and the koozie stolen from a friend's house the night he decided to propose. At the end of your table, friends can take home a koozie of their own and share in the story of your romance.
3. The Signature Bottle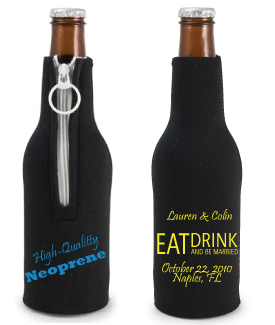 Souvenir wine bottles have become a popular wedding favor. The beer enthusiast can offer his or her own version of this tradition. Place a bottle of your favorite bottled beer or a beer from your honeymoon destination in a bottle koozie. Attach a tag instructing each guest to chill and open the bottle at a certain time while you are on your honeymoon. This way your guests can share a special moment with you and your beloved on while you are on your honeymoon.