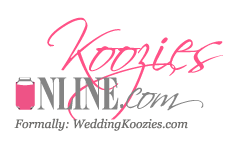 on November 13th, 2012
A wedding is a momentous occasion; not only for the bride and groom, but for family and friends as well. With all of the preparation that goes into the big day, many brides and grooms-to-be tend to forget the small things that should be included to make the day even more special. Since guests are extremely important, special care should be taken when considering what types of gifts should be given to them. These gifts should be unique and should be useful for years to come.
Personalized wedding koozies are ideal items that would make great gifts for all of your guests. They can be included in personalized gift baskets or be given as separate gifts altogether. Your friends and family will be able to enjoy their wedding koozies while drinking their favorite beverages for years to come.
There are many types of wedding koozies to choose from; including collapsible coolies, hard foam coolies, can coolies, bottle coolies and more. Purchasing your coolies online allows you to search a wide variety of products; from the inexpensive economy coolies and camouflage coolies up to the more expensive, but still affordable insulator koozie.
Choosing your koozies has never been easier; now with the availability of online ordering. Ordering your favorite wedding koozies online allows you to choose the design, color, picture and material for all of your guests. If you're having a difficult time choosing a unique design for your day koozies, browse through the large variety of clip art available for use with designing your day party favors.
Can coolies are not just for adults; they can also be used by children. Aside from wedding events, coolies are useful for both children's parties and business events. Can coolies are an excellent way to promote your business; largely because of the wide variety of customization options available.
Bottle coolies are available in a variety of colors and printed designs. Personalized koozies will surely make your guests enjoy their drinks more; keeping them refreshingly cool.
When ordering your personalized koozies online, you have a variety of options to choose from regarding production and shipping times. If you need your personalized wedding koozies as soon as possible, you have the option of having your products shipped within twenty-four to seventy-two hours. If you have a little extra time and want to save some money, you can allow your product to be produced and shipped within five business days.
Wedding Koozies have prices especially made to fit your budget. When ordering your day koozies online, it's extremely important that you ensure your koozies are designed to your preference while sticking within a strict budget.
Wedding koozies offer brides and grooms a unique, budget-friendly and humorous way to thank their guests for coming to their big day. Because gifts say a lot about the newly-wed couple, the wedding koozies you order for your guests should be personalized based on each and every person's likes and sense of humor. If you familiarize yourself with the interests of your guests, the koozies you purchase will be enjoyed for years to come.