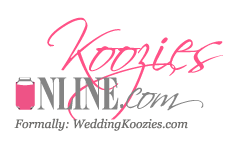 on January 6th, 2013
Having a theme wedding is a fun way to show your personality and to customize your ceremony. Guests love theme weddings because it allows them to relax and have fun while acting out a character. Whether you are celebrating with a casual theme such as a day at the beach, or an elaborate theme such as reenacting your favorite fairy tale, be sure to pay attention to the little details. You can add many small touches that will make your ceremony and reception memorable.
With a themed wedding, you have license to be creative and have some fun with your ceremony, reception, and wedding favors. So let your imagination run wild and come up with a terrific design for a wedding koozie to commemorate your big day.
One of the great things about koozies from KooziesOnline.com is that they are an extremely affordable wedding favor. You can have several different designs printed up, and create a set that your guests can collect at your reception. And your guests will love the koozies. Koozies are useful wedding favors that your guests will want to take home. Every time they open a cold beer and see your day koozie, they will remember your special day.
When it's time to order, don't worry about a thing. It couldn't be easier to order koozies for your day reception. Simply go to KooziesOnline.com and fill out the handy online ordering form. The form walks you through the entire process. You can add text and artwork to your koozies, and even use the free files available in the KooziesOnline.com online clipart gallery.
Not sure of your design skills? Simply describe what you would like to see, and you will get a proof from the KooziesOnline.com designers. We won't print until you are satisfied with what you see.
Once you've decided on your theme for your day and have decided on your decorations, order the koozies for your reception from KooziesOnline.com. Questions? Feel free to contact us any time.