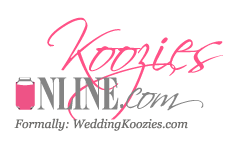 on January 22nd, 2013
Does your company have the special event coming up? Maybe it's an anniversary, a new product launch, you've moved into a new building, or you're celebrating your first million in sales. No matter what it is, you should do something special to commemorate it!
You are probably already planning champagne in the conference room, or a cake for all of your employees. But it's also nice for everyone to have something to remember your special milestone. And an easy way to do this is with custom koozies from Koozies Online.
Koozies are an economical way to commemorate an event and be able to afford to give one to everyone, without spending a bunch of cash. Plus, you know how useful these things are. When was the last time you threw away a koozie? Just about never, right? No, instead you tuck them away in your car, store them in your kitchen, and toss a few in the cooler for picnics. That way, you always have koozies on hand when you need them to keep your icy cold beverages cold, and keep your fingers from getting wet and numb. Hand out the koozies alone, or dress them up with ribbon and bags of candy or homemade cookies tucked inside. Either way, people will love them!
Getting enough koozies for all of your employees and your customers doesn't have to break the bank. You can get personalized koozies from Koozies Online for as little as $.41 apiece. And it's really easy to order them.  Not sure what you want to print on your koozies? No problem! Give us the information you have, such as your logo or an image, and any text you want. Our design team will work up a proof for you. And we won't print it until you're satisfied with the results.
At Koozies Online, you have a wide variety of foam and neoprene koozies and bottle sleeves available to choose from, as well as personalized mugs, glasses, and other promotional materials. Contact us when you need custom promotional pieces for trade shows, corporate events, or weddings.