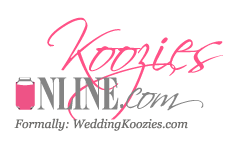 on December 29th, 2012
At weddings today, it's expected that you will give your guests small gifts or favors to thank them for attending.  Some couples give out the centerpieces off the tables at the reception, while others have a candy counter where guests can select a bag full of candy, or have custom placeholders that guests can keep. These things are nice, but thoughtful brides and grooms also give their guests something useful that will last, that they'll be able to use at home, and that will help them to remember the special occasion.
Here's the perfect thing for your wedding favors: customized koozies from KooziesOnline.com. Order can or bottle koozies and personalize them with your name, wedding date, and the artwork of your choosing. Choose colors to coordinate with your day decorations, or select bright colors to accent your decorations and stand out. Your guests will love your custom koozies, and will be sure to take them home.
Everyone has a selection of koozies at home that they've collected over the years. But your guests would prefer to use ones they got from you. And every time they see your day koozies, your guests will remember how much fun they had at your day. Koozies are great for picnics, ball games, and parties, and are easy to store away and tuck in the car or cooler for when you need them. They keep your canned drinks cold, and let you hold your drink comfortably without freezing your fingers.
If you're having a casual wedding reception, your guests can even use the koozies to hold their beer during the event. At a formal reception, you can tuck them neatly into a gift bag along with a tiny bottle of champagne for your guests to take home.
Custom koozies are a memorable and affordable way to celebrate your day. Koozies start for as little as $.49 each, so you can order enough for all of your guests in attendance, and also for those that weren't able to make it. While you're at it, you can even order a set of special bride and groom koozies for the reception.
If you have any questions, or to place your order, contact KooziesOnline.com today.