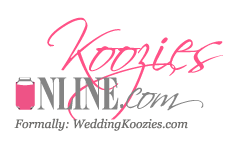 on August 19th, 2012
Some people like to plan bachelor or bachelorette parties that travel all over town to give the groom or bride a chance to get one last wild night before settling into a lifetime of commitment. Whether you keep the party confined to a hall or you take it on the road in a limo, you need something that will identify the bride or the groom while giving everyone a practical gift for remembering the night. Customized drink koozies are ideal for tagging the bride or groom and giving the attendees something that they can use to try and remember that special night. A specially printed koozie for the bride or groom, and then a separate set of koozies for the attendees, and your pre-wedding party is ready to get started.
When a bachelor or bachelorette party gets started, the first thing people want to do is toast the bride or groom. That is when the canned or bottled beverages come out, and the continuous supply of beverages begins. The worst thing that can happen during a pre-wedding party is that people have their drinks get warm. Customized koozies with the date and name of the bride or groom printed on them will prevent drinks from getting warm while giving people a way to commemorate the night. The bride's or groom's koozie should have "bride" or "groom" printed on it in large print. That way everyone at the party, and any people you may run into, will know which is the bride or groom. That helps the bride or groom to get the special treatment they deserve on their last night before a major commitment.
The best thing about drink koozies is that they are a one size fits all kind of product. Regardless of where the bachelor or bachelorette party winds up going, the koozies will be able to keep the drinks cool all night long. It may be a good idea to have a supply of extra customized koozies on hand just in case people start losing theirs throughout the course of the night. There is nothing wrong with advertising a bride or groom's special night all over town with a trail of customized koozies.
As you plan your bride or groom's pre-wedding party, keep the koozies in mind. You can get them customized so that they act as reminders of that special night for many years. Koozies are not only great gifts for a bachelor or bachelorette party, but they also serve an important function for everyone in attendance as the night goes on.
Have your Pre Wedding Koozies personalized at www.kooziesonline.com.