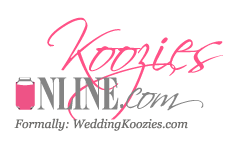 on August 8th, 2014
Koozies come in all shapes and sizes because canned and bottled beverages come in all shapes and sizes. Whether you are planning on buying some wedding koozies or you are planning on giving out custom koozies at your next corporate event, you need to decide on which kind of koozie best fits your budget and the theme of your event. Scuba foam koozies are premium koozies that have a protective outer layer that helps to keep drinks colder for a longer period of time. The colors on scuba foam koozies are also deep, brilliant and ready to stand out at your next event. If you really want to make an impact with your guests, then give them a scuba foam koozie.
When you choose the color of your scuba foam koozie, you have choices that range from standard colors to mixes such as camouflage. A neon orange koozie will be hard to miss at your next event, and it will also be something that will be hard for your guests to lose when they get home. The point to investing in high quality scuba foam koozies is to make your guests feel welcome when they first show up, and then give your guests a quality item that they will use for several years to come. If you are trying to develop a marketing plan for your company that includes giveaways, then the scuba foam koozie is a great idea because people will keep it and use it for a very long time.
The right scuba foam koozie supplier is critical to making sure that you get these items at the right price and just as you want them. When you find the right supplier, you can get your custom koozies with two sides of printing on them to help create two distinct messages for your guests to read. The print on the koozie itself is done with high quality ink that will make your message loud and clear. When you choose a font for your message, be sure to choose one that is easily read. While your guests will appreciate and use your scuba foam koozie, they may not want to stop to try and read it.
A scuba foam koozie can be further customized with an image or logo to accent the printing. The final effect is a quality gift that people will appreciate and use in their homes and offices for a very long time to come. Scuba foam koozies can be great ways to help guests remember your special event, or remind customers to call you when they need your products or services.
Check out our website for pricing on the Scuba Foam Koozies.