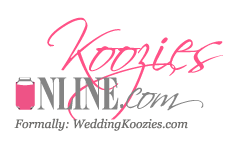 on September 2nd, 2012
Wedding Koozies, Your feet may be cold, but your hands don't have to be.
Let's all admit that the bride and groom can be quite nervous when the big day comes. The pressures of being married, coexisting through sickness and health, and through rich and poor can all seem to highlight the responsibilities and neglect the true essence of fun. The marriage ceremony can be intense and that's why most couples eagerly await the reception.
Wedding receptions are often the most memorable part of the wedding for family and friends. It's important to add fun and excitement and give them something to remember you by. It doesn't matter if you're a close friend who's helping to plan the wedding or the leading planner in your community, imprinted bottle and can coolies are the perfect thing to add to the party.
It's a fun and simple way to poke humor and bring life into the party without going overboard or spending a fortune. With sayings like "to have and to hold and to keep your beer cold" or two names simply put together with overlapping hearts, who could resist these nifty wedding favors?
It's a unique wedding favor that will definitely be used to keep hands warm and drinks cold while enjoying the memories of the wedding.
These distinctive coolies have unlimited customization potential, but listing a few of the perks might help. Choose from a combination of:
Collapsible Coolies – Well, these are easy to have and to hold! It can easily to fit inside gift bags or be used on the go.
Hard Foam Coolies – It maintains its sturdy shape for better or worse.
Large Selection of Colors – Love and cherish the perfect color to compliment the theme.
Font – Choose the perfect calligraphy for the bride and groom.
Pictures – Choose the right picture to go onto your coolie and to make the memories last forever.
After selecting your perfect "wedding koozie", rest assure that you can start planning other important aspects of the wedding and alleviate stress by saving time and money. All orders have extra bonuses included such as:
Free Setup
Free Proof
Free Shipping
Free Art
Adding "Wedding koozies" to your event is the perfect combination of sentiment and satire. You can't go wrong with these one of a kind creations. It's a small investment that will create big memories.