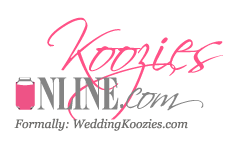 on August 21st, 2012
When you start planning your day day, you want to create something that people will always remember. It can take months to plan the perfect wedding. But when your day goes off like you want it to, then you feel like all of the hard work is worth it. Some of the details that often get forgotten include:
Gifts for the groomsmen and bridesmaids.
Customized table settings for the reception.
Flowers for the head table at the reception.
Choosing locations to take pictures immediately after the ceremony is over.
You would be surprised at how many people forget to take care of these details that can wind up being so important on that special day. If you want to try a customized gift that will enhance the table settings at the receptions and give your attendants something to remember the day by, then choose customized koozies.
When the day starts to wind down and the formality of the ceremony has long passed, it is common for the wedding party to start enjoying canned and bottled beverages. A customized koozie will make sure that those drinks stay cold and that everyone has something to remember the day with. For years to come, your attendants will have your customized koozies on standby whenever they want to keep a canned or bottled beverage cold as they enjoy a sunset on the back patio or a movie on television. It is the kind of gift that will have positive effects for a very long time to come.
A customized wedding koozie has the date printed on it along with the names of the bride and groom. The bride and groom will usually choose a graphic that will tie the whole thing together such as two joined hearts or images of the two wedding rings. A gift like this should be something that adorns every table setting at the reception. When you want to give everyone at your day something that they will use and remember your special day by, then a drink koozie is the perfect gift.
You can get hard foam or foldable koozies. The choice is yours, but the impact will be the same. Your guests and attendants will be able to walk away from your special day with something that they will have for many years to come and treasure as something to remind them of the day that you all shared together.
Browse our website for your wedding favor Koozies.