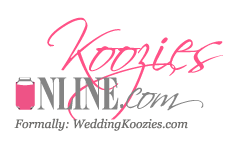 on July 21st, 2012
Wedding Koozies Coupon saves customers
Wedding Koozies specializes in printable beverage coolies that serve two purposes. The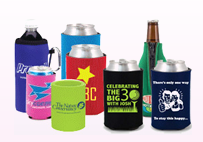 coolie maintains the coolness of a wedding guest's beverage. It also provides the guests a very special commemorative to bring home with them after the event.   Offering a wide array of types, colors and styles of beverage coolies in both collapsible and hard foam, Wedding Koozies is now offering a $5 off coupon code "WedKoz" that may be used toward a purchase. The wedding koozies coupon can be used towards any of our products.  The coolies come in can, bottle, and camo types. The site features hundreds of clip art examples that may be used on the coolies alone or in combination with other text and characters. The clip art is only a reference.
Coolies are also a fun and useful commemorative for other wedding related parties. They may be used at parties for the bachelor or bachelorette, showers, rehearsal dinners and more. There are clip art selections perfect for all those occasions.
For instance, if the bride and groom have chosen a less formal cowboy theme, the neoprene boot coolies would be perfect. The boot coolies come in a rainbow of colors. Add a special message or image to the coolies and they become the ideal complement to a perfect day.
Once the selections are made, use the coupon code WedKoz at checkout to get $5 off that order. The final price includes everything from set up and proof to free shipping. After the buyer places the order, an email proof from the Wedding Koozies team of designers will be sent for the buyer's full and final approval.   With all the drama and details as the big day approaches, a planner does not need a devil in the other details. Wedding Koozies makes the selection and ordering process easy and fast. Their options provide a range of possibilities to be customized to any taste or preference.   The Wedding Koozies system is sleek and designed for one purpose only — simply to create the best and most affordable coolies for any wedding-related event. Life doesn't need to be any more complicated right now. Just use WedKoz at checkout for the special $5 instant savings.