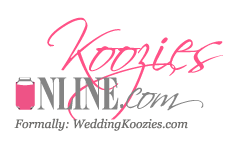 on August 1st, 2014
Wedding Koozie Reviews for you to see
View some of our most recent reviews!   Check back for more reviews in our blog.
Customer Name: Keller
Review: thank you for all your help.  you guys are the best! they came in on time and they were a hugh hit!
Date: Mon 7/2/2012 4:50 PM
Customer Name: Louise
Review: If there is a customer review to send it I will certainly send one in.  You have been great. I actually got the name of your company through a gal I work with who ordered your Koozies for her wedding.  Thankyou so much for all the extra time you've taken with my order.
Date: Tue 6/19/2012 12:07 PM
Customer Name: PTson
Review: They look GREAT!!!
Date: Wed 6/6/2012 5:52 PM
Customer Name: Lea B
Review:   Got the koozies! Thanks. They look fantastic!
Date: Wed 5/30/2012 9:14 PM
KooziesOnline.com offers a free proof on all orders before production is started.   This allows our customers to see exactly what is going to be printed.   This proofing system allows for no suprises when your product arrives at your door.