Wedding Kooozies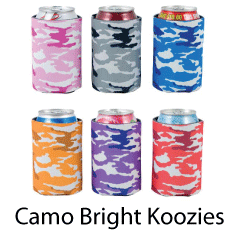 What is a more special occasion than your wedding day? For many, their wedding is a once-in-a-lifetime event that they will spend forever remembering fondly. It is a moment frozen in time that will always hold a special place in your heart. Skip the complication and let your wedding be just that! You have picked out your attire, chosen your decor and laid out the menu and cake. But what else are you missing?
Give back to your friends and family with a gift that tells a story -- a gift that speaks for itself!
Our customized wedding koozies are the exact touch of pizazz you are looking for. With these unique party favors on hand, your guests will be entirely enthralled. There are so many ways you can customize your koozies that they will fit perfectly with any theme, plan,or idea you have in mind for your special day. They can even start off the entire vision of your wedding by igniting your imagination and giving you a brand new scheme.
Koozies can be humorous, allowing friends and family to share in an inside joke or let loose on all new funny.

Koozies can be romantic, touching and full of love more so than beer -- they can can make guests go "awww" and whisper in their +1's ear.

Koozies can be inspiring, allowing for the bride and groom to show off their favorite quotes.

Koozies can be image-oriented, displaying a piece of art, drawing or colors that match the theme.

Koozies can be simple, with inscriptions like Mr. & Mrs., Bride & Groom or just The Date.
All in all, koozies are versatile and made just for you and your loved one. They will fit you and your beverage of choice to a T. They can be formed and fitted to your exact specifications, ensuring your cup runs over with uniqueness.
Take Your Pick
Can Koozies & Coolies
Perfect for cans of soda, beer or other beverages at your wedding, can koozies or coolies will not only help drinkers keep a firm grip on the outside, but also keep the drink inside nice and cool -- hence the name. Coolies and koozies are an effective choice for insulating beverages and showing off you and your loved one's personal style or charm.
These koozies and coolies come in many different styles:
Premium Scuba Foam
Neoprene
Camo & Color Camo
Hard Foram
Boot & Sneaker
Tall Boy
It's hard not to find exactly what you're looking for. However, aside from products tailored to cans, we also offer koozies and coolies to fit other beverages, such as bottles.
Bottle Koozies & Coolies
These koozies and coolies are sized to fit your beer or your root beer. If your or your guest's beverages are in a bottle, than these are the pick for you. Much like can koozies and coolies, bottle koozies and coolies have nearly the same amount of options:
Scuba Foam with Zipper
Scuba Foam Slip On
Neoprene with Zipper
Neoprene with Twister Zipper
Boot
Longneck Jersey
Camo
Color Koozies & Coolies
Add some color into your brand new marriage! Match it to your theme, blend in with the drapes and share in your favorite colors. Our full color koozies and coolies will no longer limit you to choosing just one color. This allows you to choose multiple ink colors with the theme of your choice. Our designers can also help you design the ultimate party favors for your wedding.
Capture your memories with party favors that will be used again and again even after your wedding. Guests, family and friends will look at at their koozie or coolie from your wedding and be captivated again by the memory. Let your day be remembered with our personalized wedding koozies and coolies -- request your free proof now!